Posted by Kathryn Pollock on 24th Oct 2014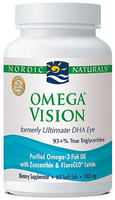 Eye Health - Good eye health is mostly taken for granted in the young, but as we age many people begin to see less clearly, and the years of exposure to harsh UV light, irritants, eye-strain and less tear production, can lead to dry eye problems, often resulting in red and irritated eyes.
Long term healthy eating and UV protection plays an important role in eye health. A good diet provides nutrients required to support healthy eyes, adequate tear production, and promote good circulation to the eye tissues. It is never too late to improve dietary habits!
The intake of certain concentrated essential fatty acids and nutrients can have a more speedy effect, helping to improve tear production and promote long term eye health, when taken on a daily basis.
Nordic Omega Vision is a specialised formula designed to support healthy vision, moisture levels and tear production, with added antioxidants to help promote long term eye health. Omega Vision is specifically formulated to protect eyes and support healthy vision by combining concentrated omega-3s with natural carotenoids, FloraGlo lutein and zeaxanthin. FloraGLO is the most clinically researched brand of lutein, shown to help protect eyes from damaging blue light from the sun. Omega-3 DHA is more concentrated in eye tissue than in any other part of the body. This unique blend supports eye health, while also protecting against damaging ultraviolet blue light.
(Nordic Naturals provide premium quality ingredients in their supplements)
When you consider how important your eyes are, this supplement is a worthwhile investment indeed!
Click here to view Nordic Omega Vision Capsules 60